Skip to Content
Domino's Pizza Locates at Little Creek Project
Gulf States Real Estate Services and Gulf States Construction Services have commenced work on their latest project in St. Tammany Parish. They will be constructing a 3,000-square-foot building that will house a new state-of-the-art Domino's Pizza as well as a 1,400-square-foot additional space for lease. The $1.6 million-dollar project is owned and funded by RPM Pizza out of Gulfport, MS, the country's largest Domino's franchise.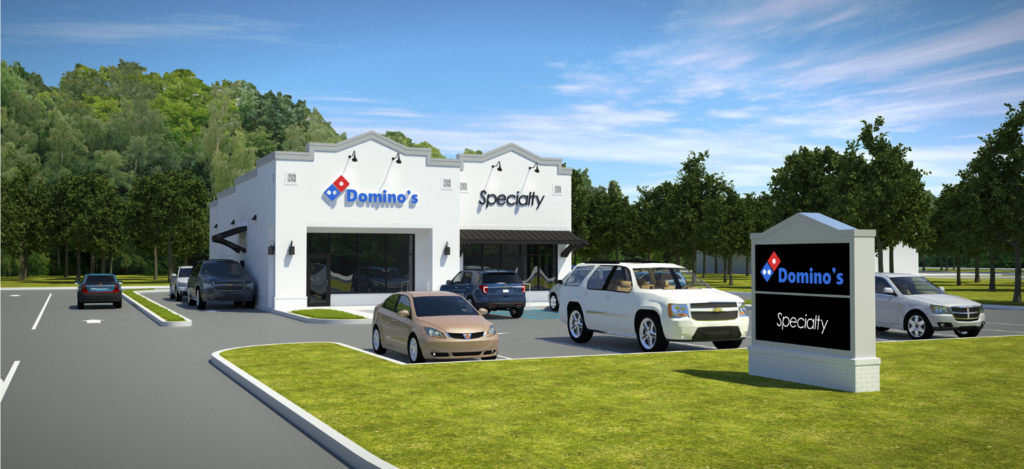 Rendering Courtesy of Zito Russell Architects 
Rogers Mueller (Owner and VP of Development) said, "Since 1981, RPM Pizza has been family-owned and operated. We strive to be the #1 pizza company in every single neighborhood. Dominos has over 900 franchisees/owners. 90% of those owners started as part-time delivery drivers or customer service representatives. RPM Pizza and Domino's is excited to expand business in Louisiana's Northshore and GNO trade areas as well as the seven other states we operate. RPM Pizza is the largest Domino's franchisee in the United States and closing in on our goal of 200 stores by 2025. Domino's offers part/full-time jobs, management careers, and business ownership opportunities. RPM Pizza has helped over 100 team members franchise or start their businesses by using skills developed through our pizza stores and centralized training program, "Pizza College." My favorite part about what we do is, we will teach you how to run a million-dollar business; all you need to do is show up, smile, work hard, and be prepared to win. We look forward to opening our doors and serving the community more than just pizza."
Domino's chose to locate at the Little Creek Project, which was envisioned by Mike Saucier at Gulf States Real Estate Services in 2018. The property is strategically located near the intersection of Interstate 12 and Hwy. 59. Other users that are already in place are Popeye's Fried Chicken and Smoothie King. More announcements are planned for the very near future.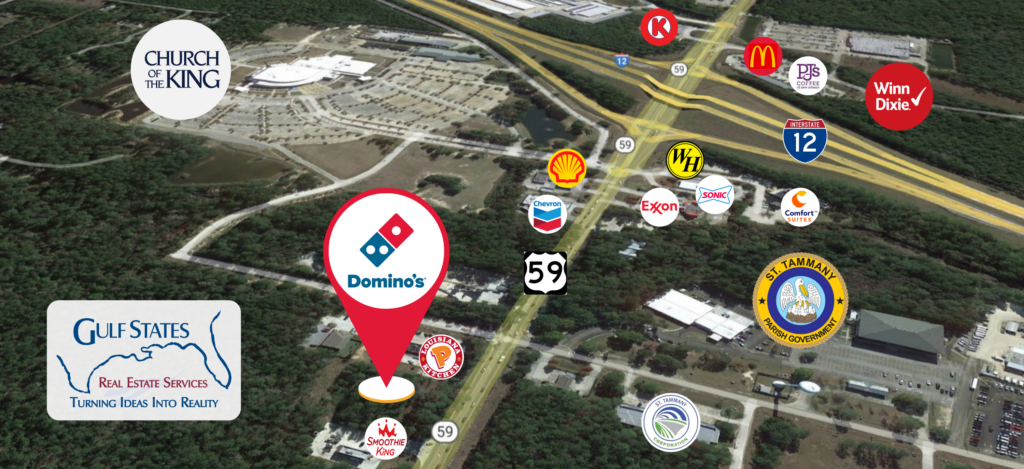 Local Retail Map Courtesy of Gulf States Real Estate Services
Domino's will offer a variety of services to a community, including in-house dining, pick-up, and its traditional delivery service. Groundbreaking is scheduled for November 3rd, 2021, and an opening is planned for early Spring 2022.
For information on Domino's future plans and other opportunities at Little Creek, please contact Mike Saucier at msaucier@gsres.com or 985-969-0081 or Beth Lemonier respectfully at blemonier@gsres.com or (985) 259-6570.