Skip to Content
Kia of Covington Retains Gulf States Real Estate and Construction Services for North Shore Franchised New Car Dealership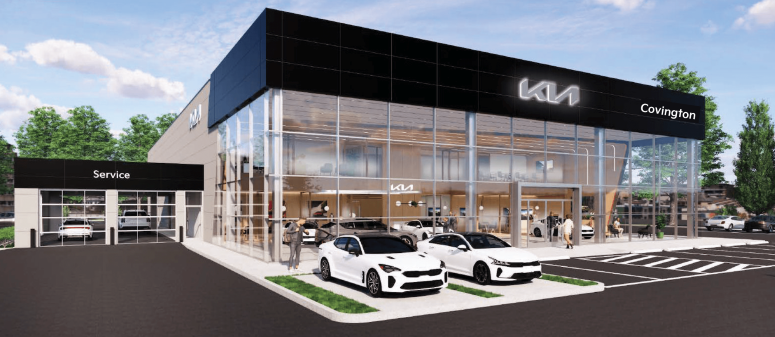 Gulf States Real Estate Services, LLC and Gulf States Construction Services, Inc. are proud to announce the development of a state-of-the-art new and Certified Pre-Owned Kia car dealership in West St. Tammany Parish.
Kevin Szura, Kia of Covington dealer principal, contacted Beth Lemonier, Gulf States Commercial Agent, for assistance locating a prominent property for the 5-acre parcel for the new dealership. The project will be located within the N. E. Quadrant of Interstate 12 and Highway 190 in Covington, Louisiana.
Gulf States Construction Services, Inc. has also been contracted to oversee the design, development, and construction of the Kia of Covington facility for a planned 2023 opening. Site and Civil Engineering will be delivered by Hightide Engineering located in Covington.
Kevin and Marcy Szura, who reside in Houston, TX, said, "Being able to find an experienced commercial realtor like Beth representing a reputable and proven company to locate the perfect site, handle all land purchase negotiations, due diligence, permitting, and construction was a real benefit to reaching our goals."
Happy Kia, the Southeast Texas dealership, owned and operated by Kevin Szura and partners Budd and Lynn Blackburn, Wilmington, NC, was recently awarded Kia's National Winner Top Customer Sales Satisfaction Performance award for 2022, repeating the win of the prestigious award in 2021.
"Kevin and Marcy will also be utilizing Beth Lemonier through Gulf States Residential Brokerage and Relocation Service Division to relocate their family and key personnel to the area," said Mike Saucier, President of Gulf States, adding, "we are truly a one-stop shop!"
Since 1990, Kevin Szura has been owning, operating, and managing car dealerships with a resilient focus on community involvement, school sponsorships, and supporting local civic and charitable causes. For more information on Kia of Covington and employment opportunities, visit www.kiaofcovington.com.
For more information on the project or opportunities for employment, visit www.gsres.com or contact Mike Saucier at msaucier@gsres.com.